The Complete Business Plan In One Course Ft. Award Winning Business School Prof
What's Included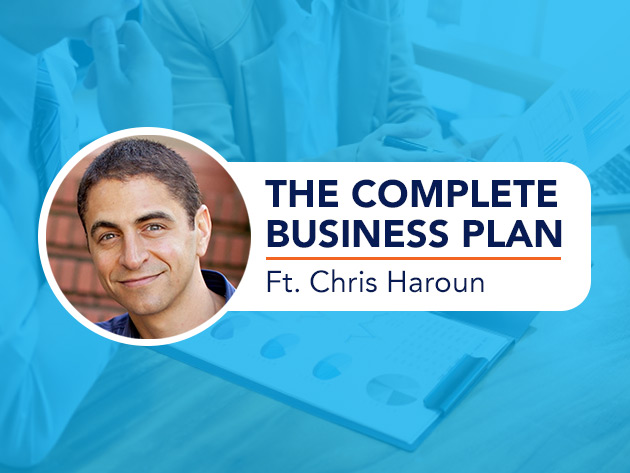 $52.00

Value
The Complete Business Plan in One Course (Includes 50 Templates)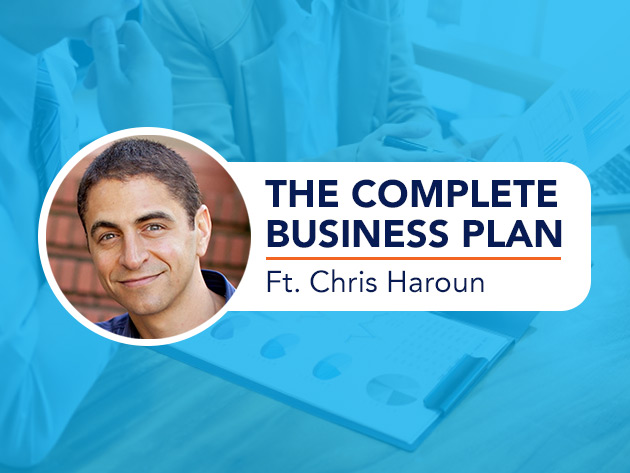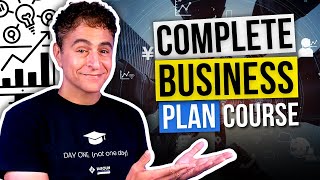 Experience level required: All levels

Access 61 lectures & 8 hours of content 24/7

Length of time users can access this course: Lifetime
Course Curriculum
61 Lessons (8h)
How to Take this Course & How to Use the 50 Included Business Plan Templates

Thank You Message from Chris

[DOWNLOAD] How to Take this Course/Using Your Excel Business Plan Dashboard

20:08

Please Read This Text Lecture If You Want the Excel File to Run Faster Thanks

STEP 1 of 13: General Business Plan Inputs: Questions and Analysis

Introduction to General Business Plan Inputs (What, Why & How of STEP 1)

1:24

General Business Plan Inputs+Analysis Questions 1-1 through 1-65

20:16

General Business Plan Inputs+Analysis Questions 1-66 through 1-85

7:15

STEP 2 of 13: Your Cover Page: Input Questions, Analysis and Outputs

Introduction to Creating Your Cover Page (What, Why & How of STEP 2)

1:04

Creating Your Cover Page: Inputs+Analysis Questions 2.1 through 2.4 and Outputs

4:50

STEP 3 of 13: Your Executive Summary: Input Questions, Analysis & Outputs

Introduction to Your Executive Summary (What, Why & How of STEP 3)

2:03

Creating Your Executive Summary Inputs+Analysis Questions 3-1 through 3-27

14:57

Your Executive Summary Outputs

7:30

STEP 4 of 13: Your Management Team: Input Questions, Analysis and Outputs

Introduction to Your Management Team (What, Why & How of STEP 4)

4:35

Creating Your Management Team Inputs+Analysis Questions 4-1 through 4-50

20:26

Creating Your Management Team Inputs+Analysis Questions 4-51 through 4-127

13:07

Your Management Team Outputs

7:32

STEP 5 of 13: Your Product and/or Service: Input Questions, Analysis and Outputs

Introduction to Your Product and and or Service (What, Why & How of STEP 5)

2:25

Creating Your Product and or Service Inputs+Analysis Questions 5-1 through 5-14

12:17

Your Product and or Service Outputs

1:32

STEP 6 of 13: Your Customer & Market: Input Questions, Analysis and Outputs

Introduction to Your Customer & Market (What, Why & How of STEP 6)

2:58

Creating Your Customer and Market Inputs+Analysis Questions 6-1 through 6-22

13:43

Your Customer and Market Outputs

2:24

STEP 7 of 13: Your Competition: Input Questions, Analysis and Outputs

Introduction to Your Competition (What, Why & How of STEP 7)

3:01

Creating Your Competition Inputs+Analysis (Questions 7-1 to 7-21)

10:02

Your Competition Outputs

1:18

STEP 8 of 13: Your Go-to Market Strategy: Input Questions, Analysis and Outputs

Introduction to Your Go-to Market Strategy (What, Why & How of STEP 8)

1:57

Creating Your Go-to Market Strategy Inputs+Analysis (Questions 8-1 to 8-6)

3:04

Your Go-to Market Strategy Outputs

1:00

STEP 9 of 13: Your Sales+Marketing Strategy: Input Questions, Analysis & Outputs

Introduction to Your Sales+Marketing Strategy (What, Why & How of STEP 9)

3:13

Creating Your Sales and Marketing Inputs+Analysis (Questions 9-1 to 9-8)

15:14

Your Sales and Marketing Outputs

0:42

STEP 10 of 13: Your Milestones: Input Questions, Analysis and Outputs

Introduction to Your Milestones (What, Why & How of STEP 10)

1:53

Creating Your Milestones Inputs+Analysis (Questions 10-1 to 10-18)

6:29

Your Milestone Outputs

0:54

STEP 11 of 13: Your Other / Misc. / Risks: Input Questions, Analysis and Outputs

Introduction to Your Other, Misc., Risks (What, Why & How of STEP 11)

2:27

Creating Your Other Misc. Risks Inputs+Analysis (Questions 11-1 to 11-6)

4:48

Your Other Misc. Risks Outputs

0:31

STEP 12 of 13: Your Financials: Input Questions, Analysis and Outputs

Introduction to Your Financials (What, Why & How of STEP 12)

11:54

Creating Your Financial Statement Inputs+Analysis: Forecasting Revenue Part 1

22:00

Creating Your Financial Statement Inputs+Analysis: Forecasting Revenue Part 2

11:56

Creating Your Financial Statement Inputs+Analysis: Forecasting Expenses Part 1

23:03

Creating Your Financial Statement Inputs+Analysis: Forecasting Expenses Part 2

12:17

Creating Your Financial Statement Inputs+Analysis: Forecasting Op. & Net Profit

16:20

Creating Your Financial Statement Inputs+Analysis: Balance Sheet & CF Statement

13:52

Your Financial Statements & Ratio Outputs

13:25

STEP 13 of 13: Your Appendix: Input Questions, Analysis and Outputs

Introduction to Your Appendix (What, Why & How of STEP 13)

3:00

Creating Your Appendix Inputs+Analysis (Questions 13-1 to 13-15) and Outputs

3:37

Creating Your Final Business Plan Output

[DOWNLOADS] Introduction to Creating Your Final Business Plan Output (What, Why & How)

1:48

Assembling Your Final Business Plan Part 1: Cover Page and Executive Summary

18:56

Assembling Your Final Business Plan Part 2: Management Team

12:15

Assembling Your Final Business Plan Part 3: Product or Service through Step 11

13:29

Assembling Your Final Business Plan Part 4: Adding Your Financial Statements

20:40

Assembling Your Final Business Plan Part 5: Adding Your Financial Statements

5:51

Assembling Your Final Business Plan Part 6: Adding Your Appendix Items

22:51

[Optional] Creating Your Final Presentation Slides Output

[DOWNLOADS] ]Introduction Creating Your Final Presentation Slides Output (What, Why & How)

3:34

Assembling Your Final Presentation Slides

14:02

[Optional] Learn How to Make the Excel File from this Course from Scratch

Introduction to How to Make the Excel File from this Course From Scratch

1:01

How to Make the Excel File: Making the Formulas

17:43

How to Make the Excel File: Making the Checkboxes

5:08

How to Make the Excel File: Making the Toolbars (Rows 1 through 12) Part 1 of 2

20:09

How to Make the Excel File: Making the Toolbars (Rows 1 through 12) Part 2 of 2

20:38

Course Conclusion, Congratulations and Thank You!

Course Conclusion, Congratulations and Thank You!

3:07
The Complete Business Plan in One Course (Includes 50 Templates)
Chris Haroun
Chris Haroun | School Professor | Venture Capitalist | Founder & CEO of Haroun Education Ventures | Author
Chris Haroun is an award-winning business school professor, venture capitalist, MBA graduate from Columbia University and former Goldman Sachs employee. He has raised/managed over $1bn in his career. He also has work experience at hedge fund giant Citadel, consulting firm Accenture, and several firms that he has started, including an investment firm that had a venture capital / private investment in Facebook several years before the Facebook IPO. He is the founder and CEO of Haroun Education Ventures.
Chris is the author of "101 Crucial Lessons They Don't Teach You In Business School. " Forbes recently called this book '1 of 6 books that all entrepreneurs must read right now'.
He is also the author of "The Ultimate Practical Business Manual: Everything You Need to Know About Business (from Launching a Company to Taking it Public)", and 10 other business books.
Chris is also a frequent guest lecturer at several Bay Area business schools including Berkeley and Stanford. He has written numerous articles and has been interviewed in Forbes, VentureBeat, Entrepreneur Magazine, Wired Magazine, AlleyWatch and Radio Television Hong Kong (RTHK) which is Hong Kong's oldest and sole public service broadcaster. He has his own entrepreneurship column in Inc. magazine.
He has an MBA in Finance from Columbia University and a Bachelor of Commerce Degree with a major in Management Information Systems and International Business from McGill University where he is a McGill University Dobson Fellow. He has founded several companies, including his most recent company, BusinessCareerCoaching and he serves on the boards of several Bay Area technology companies and charities and he lives in Hillsborough, California.
Description
Welcome to the Complete Business Plan Course, which will help you make an incredible business plan from scratch. Everything that you need to make your awesome business plan is included in this course, including 50 business plan templates and an incredibly detailed 13-step process to help you make an entire business plan from scratch! Led by an award-winning MBA professor who is a top-selling online business teacher, top-selling author, former Goldman Sachs employee, Columbia MBA, and venture capitalist, this course will give you all of the training you need to turn your business idea into a reality.
Access 61 lectures & 8 hours of content 24/7
Learn what you need to get your business off the ground & funded
Discover a 13-step methodology to create a business plan
Get 50 business plan templates & 25 business presentations specifically made for startups
Specs
Important Details
Length of time users can access this course: lifetime
Access options: web streaming, mobile streaming
Certification of completion included
Redemption deadline: redeem your code within 30 days of purchase
Experience level required: all levels
Requirements
Terms
Unredeemed licenses can be returned for store credit within 30 days of purchase. Once your license is redeemed, all sales are final.
All reviews are from verified purchasers collected after purchase.
Amazing bundle course. It exceeded my expectation. I highly recommend it. Chris Haroun is an excellent teacher.
Aug 14, 2020
I have been searching for the perfect tool to create a business plan that excels in every way thinkable. I found programs, Apps, tools, templates, etc. Most are great looking tools. But my search for the perfect instrument stopped when I found "the complete business plan in one course by Chris Haroun. AND YOU KNOW WHAT...? IT'S "JUST" AN EXCEL FILE! BUT I CAN ONLY SAY: "THIS ONE TRUELY EXCELS!"
Jun 15, 2020
I have not used it yet, but it looks solid. It has what I am looking for and the materials available looks good, so I am excited to get started and update this once I'm done. [Rating of 4/5 since I have not really gone through the course yet]
May 20, 2020